Stevenage is a town of approximately 80,000 in the county of Hertfordshire, in the south east of England, only around 32 miles north of central London.

The town is well known for being the first ever 'new town'; new towns were a series of towns built near London after World War II. Stevenage as a whole is not as a major tourist attraction, but there are some attractions that may attract local visitors. An interesting fact about the town is that a view of Stevenage from the air, shows it as a heart shape.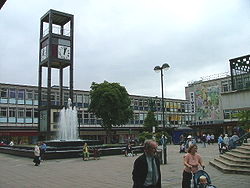 Stevenage is a must for architecture and planning historians, sociologists and socialists to visit, it represents, perhaps, the most successful of the great Post-War experiments with new housing. This was a huge project to relocate those who were displaced by the war in clean, open, and healthy new towns. Its often unattractive architecture is mostly that of the 1960s and 1970s; in this it is perhaps unfortunate, but it was also conceived with a strong vision in mind.
It is easy to write Stevenage off as another soulless new town, and to make stereotypical remarks about it as a place to live, as countless unthinking and lazy commentators have done. But this is to miss what the town offers. Stevenage is like any other UK town, it has its problems and these should not be dismissed, but it also benefits from a good transport infrastructure, wide open spaces, plenty of sporting facilities, a theatre of some reputation and lovely countryside both around it, and within it.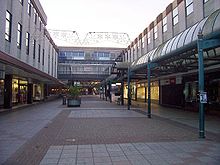 There are many reasons why you might want to come to Stevenage to live. Swimming pools, relatively low house prices, but a quick commute to London (20 minutes by fast train), as well as tennis courts and wide open parks. All of these do attract people from the surrounding area to Stevenage. A particularly attractive feature is the network of separated bicycle paths that cross the whole area, enabling one to cycle practically anywhere in the town, without having to negotiate traffic. Stevenage has the first pedestrianised shopping precinct in the UK, which on the whole remains vibrant and successful, unlike those in many other new towns. Sadly, as with some other UK cities, this is a different place at night - its bleak, sodium-lit environment is not conducive to a thriving night time economy, which is mainly conducted in the Leisure Park by the train station, and the old town. Overall, local citizens are supportive of their town and football team (Stevenage Borough FC), one of the most well supported non-league teams in the UK.... read more