Rugby is a town in Warwickshire, in the West Midlands region of England, part of the United Kingdom.
Rugby Featured Hotels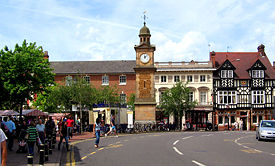 Rugby has always been a centre for the surrounding farming communities, and a weekly cattle market continued to be held in the town until April 2008, but it was the coming of the London & Birmingham Railway in 1838 which caused a significant expansion of the town. In 1840 a junction with the Midland Counties Railway from Leicester was completed and in consequence major railway yards and other heavy engineering industries developed in the town.
The decline of heavy engineering and the downgrading of the railway facilities led to a decline in the town. However, efforts have been made to exploit the central location of the town to attract new businesses and distribution centres to the area.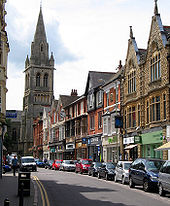 Local Attractions:
Rugby Art Gallery and Museum - a nationally-recognised collection exploring the Roman past (by means of remains excavated at nearby Tripontium), Rugby's cultural heritage and the great collection of Modern Art.
The James Gilbert Rugby Football Museum, town centre, opposite the main entrance to Rugby School, tel 01788 540 795, open Mo-Sa 9am-5pm, admission free - housed in the building where James Gilbert made the very first rugby football in 1842, this little museum is especially popular with rugby fans. Hand-made balls are still manufactured here and the process may be viewed by visitors from Mondays to Wednesdays.
Rugby School, one of the most famous private schools in the country, is close to the town centre, but not open to the general public. A walk round its perimeter gives an excellent view of its imposing Victorian architecture and also of the field on which the game of rugby football was first played.
Rugby Featured Hotels