Search this site

Financial District, San Francisco, California, USA
Buy at AllPosters.com

Sunset on the Big Sur Coastline, California, USA
Buy at AllPosters.com

Financial District, San Francisco, California, USA
Buy at AllPosters.com

Copyright © All World Vacation Station






Return to B&B Portfolio

| | |
| --- | --- |
| AHWAHNEE BED & BREAKFASTS, CALIFORNIA | |

Ahwahnee is an unincorporated community in Madera County, California. It is located 5.25 miles (8.4 km) west of Yosemite Forks, at an elevation of 2326 feet (709 m).

Ahwahnee is hilly and located in the Sierra Nevada mountains. The ZIP Code is 93601. The community is inside area code 559. It is part of the Madera–Chowchilla Metropolitan Statistical Area.

The Homestead B&B, Ahwahnee
Situated on 160 acres in Ahwahnee, Calif. The cottages are located less than one mile from the River Creek Golf course. The Timberline Art Gallery and Fresno Flats Historical Park are less than seven miles from the cottages. The south entrance of Yosemite National Park is approximately 21 miles away. The cottages were hand-built by owners in 1992 with adobe, stone and cedar materials. The Homestead's kitchens are stocked daily with coffees, teas, hot chocolate, milk, juice, muffins, fruit and granola. The kitchens are equipped with stoves, ovens, microwave ovens, utensils, dishes, coffeemakers, toasters, pots and pans. The Homestead offers gas barbecue grills and picnic tables. In-room massages are available for a fee. A stable and trails are available for guest horses. Other pets are not allowed at this property.

| | |
| --- | --- |
| BIG BEAR LAKE BED & BREAKFASTS, CALIFORNIA | |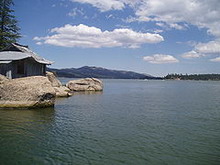 Big Bear Lake is a reservoir in the San Bernardino Mountains in San Bernardino County, California, United States. At a surface elevation of 6,750 ft, it has an east-west length of approximately 7 miles (11.2 km) and is approximately 2.5 miles (4 km) at its widest measurement, though the lake's width mostly averages a little more than 1 mile (1.6 km). These approximations are based on the lake having an optimum retainable water level. At dam's end Big Bear measures its deepest water at 72 feet (22 m). It is a completely snow-fed lake having no other means of tributary or mechanical replenishment.

Big Bear Lake provides an attractive setting for many outdoor activities, including fishing (trout, bluegill, crappie, catfish and largemouth bass), pleasure boating, and water skiing. Because of the very cold water and the presence of underwater obstacles near the shorelines, swimming is discouraged. The lake is patrolled by the BBMWD Lake Patrol.

Many lakeside residents have private docks, and visiting boaters obtain mooring in several of the marinas found on both shores. Big Bear Municipal Water District (a special district of the State of California) provides public launches on the east end and west end of North Shore. Local marinas rent various sport and pleasure boats, and parasailing is available.

Knickerbocker Mansion Inn B&B
The Knickerbocker Mansion Country Inn, nestled on two acres, is four blocks from the lake in the city of Big Bear Lake, Calif. Bordered by the San Bernardino National Forest, this inn is 1 half-mile from the Moonridge Zoo and 4 miles from the Bear Mountain Ski Resort and Big Bear Mountain Golf Course. The inn consists of 4 buildings, with the interiors retaining the original rustic charm and ambiance, and the exterior surrounded by stately pines. A library, sitting room, game room, hot tub, meeting facilities, patio and forest and lake-view verandah are all available for guests' use. A complimentary two course gourmet breakfast is served each morning, as well as an afternoon tea. The inn's on-site restaurant, Bistro at the Mansion, is open Saturday nights, and offers fine options such as filet mignon, tuna steak, lamb, and shrimp.

| | |
| --- | --- |
| CAMBRIA BED & BREAKFASTS, CALIFORNIA | |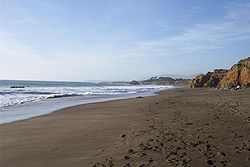 Cambria is a census-designated place (CDP) in San Luis Obispo County, California, United States. The population was 6,232 at the 2000 census.

The primary economic activity of Cambria is tourism. Cambria is located on the coast of the Pacific Ocean, and has dramatic rocky cliffs and beaches. There are many hotels and bed & breakfasts, especially on Moonstone Beach Drive.

Cambria offers a variety of recreational activities. The Fiscalini Ranch offers opportunities for bicycling, dog walking, or hiking. Local beaches offer a venue to boogie board, surf, skimboard or relax. Ocean fishing is conducted off area beaches. Local kayak fishing tours are available.

Olallieberry Inn B&B, Cambria
Olallieberry Inn B&B is located in the seaside village of Cambria, Calif., on the banks of Santa Rosa Creek. The bed and breakfast is positioned on Cambria's Main Street one block from antique shops, art galleries, gift shops and fine restaurants. The inn is six miles south of Hearst Castle and approximately 15 miles from the central California vineyards. A 120-year old redwood tree complements the front lawn of this 1873 home, said to be one of the oldest buildings in town. The inn serves complimentary breakfasts prepared with fresh produce from the local farmers market. Evening receptions include complimentary local wine and hors d'oeuvres, including goat cheese with fresh-baked Focaccia bread, crab paté and fresh salsas.
The Pickford House B&B, Cambria
Pickford House B&B is located in Cambria, Calif., a town filled with unique shops, art galleries and gourmet restaurants. The bed and breakfast is eight miles from William Randolph Hearst's Castle. Approximately 12 miles east of the property is the Paso Robles wine country, featuring numerous vineyards, orchards and berry farms with tasting rooms. This rustic Victorian mansion overlooks historic Rancho Santa Rosa and the Santa Lucia Mountains. The Pickford House lobby features two swan-carved chairs and a royal red velvet settee with matching carved tables, an antique working phone booth, and turn-of-the-century wall coverings, accessories and lighting. Complimentary breakfasts, evening hors d'oeuvres and bedtime cocktails and sweet cakes are served daily.

| | |
| --- | --- |
| CARMEL BED & BREAKFASTS, CALIFORNIA | |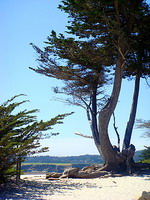 Carmel-by-the-Sea, usually called simply Carmel, is a small town in Monterey County, California, United States, founded in 1902 and incorporated in 1916. Situated on the Monterey Peninsula, the town is known for its natural scenery and rich artistic history. In 1906, the San Francisco Call devoted a full page to the "artists, poets and writers of Carmel-by-the-Sea," and in 1910 it reported that 60 percent of Carmel's houses were built by citizens who were "devoting their lives to work connected to the aesthetic arts." Early City Councils were dominated by artists, and the town has had several mayors who were poets or actors, including Herbert Heron, founder of the Forest Theater, bohemian writer and actor Perry Newberry, and actor-director Clint Eastwood, who was mayor for one term, from 1986 to 1988.

The town is known for being "dog-friendly", with numerous hotels, restaurants and retail establishments admitting guests with dogs. Carmel-by-the-Sea is located on the Pacific coast, about 330 miles north of Los Angeles and 120 miles south of San Francisco.

Cobblestone Inn B&B, Carmel
The Cobblestone Inn's guest rooms have beautifully framed gas fireplaces, pillow-top mattresses with premium bedding, refrigerators stocked with complimentary sodas, alarm clocks, television sets with DVD players, Telegraph Hill robes, iron and ironing boards. Some rooms feature jet tubs. The Inn prepares breakfast every morning which is served in the dining room. Coffee and tea service is throughout the day. Enjoy wine and cheese by the fire every evening followed by nightly sherry service. Turndown service is offered nightly to prepare the rooms for a restful night.

| | |
| --- | --- |
| ELK BED & BREAKFASTS, CALIFORNIA | |

Elk (formerly, Greenwood and Elk River) is an unincorporated community in Mendocino County, California. It is located 22 miles (35 km) south of Fort Bragg, at an elevation of 135 feet (41 m).

Elk has a population of 208. It is located on the coast at the crossroads of State Route 1 and Philo-Greenwood Road. Albion, Little River, and Mendocino lie to the north, and Manchester and Point Arena to the south. Inland are Navarro, Philo, and Boonville.

Elk was originally called "Greenwood" after early homesteaders, the Greenwood brothers, sons of mountain man Caleb Greenwood, one of the rescuers of the Donner Party. When the post office was opened, in 1887, there was already another Greenwood in California so it was called Elk Post Office. Eventually the name came to refer to the town. It is an outgrowth of an earlier town called Cuffy's Cove and the cemetery is located at that townsite a mile north of Elk. When a pioneer lumberman was unable to reach a satisfactory deal with the owners of the lumber chutes at Cuffy's Cove to ship out his redwood product, he constructed a wharf out along a string of rocks in the center of what is now Elk. When he built a large steam sawmill and narrow gauge railroad, the new employment drained the town of Cuffy's Cove which was eventually abandoned. That mill was operated from about 1890 until 1930. When it closed in the depression Elk became a ghost town.

Another sawmill was built in about 1953 and one more in 1963. These operated until the late 1960s when the redwood and Douglas fir was mostly logged out. After some quiet times, the town has had a rebirth as a recreation destination. Many of the larger old houses are now Bed & Breakfast inns and the State has acquired the Greenwood Creek beach and the original mill site as a state park.

| | |
| --- | --- |
| | Apologies no B&B's in Elk listed at present. |

| | |
| --- | --- |
| EUREKA BED & BREAKFASTS, CALIFORNIA | |

Eureka is the county seat and principal city in Humboldt County, California, United States. Located adjacent to Humboldt Bay 270 miles north of San Francisco, the port city of 26,097 (2007) residents is situated near extensive preserves of the world's tallest trees - the Coast Redwoods. The city, a major player in the historic west coast lumber trade, is the site of hundreds of Victorian homes, including the Carson Mansion. This architecturally and historically significant coastal city serves as the regional center for government, health care, trade, and the arts for the far North Coast of California.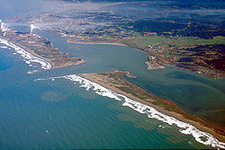 Eureka is one of California's historic landmarks. The California State Historical marker, #477, designating Eureka, is located in Old Town, one of the nation's best preserved original Victorian era commercial districts. The city was voted as the #1 best small art town in John Villani's book "The 100 Best Small Art Towns In America." Eureka boasts the region's largest monthly cultural and arts event, "Arts' Alive!" On the first Saturday of each month more than 80 Eureka business and local galleries open their doors to the public. Often local cuisine and beverages accompany live performances by acclaimed regional bands and other types of performance art.
Theater offerings include year round productions from several various theater groups including the North Coast Repertory Theater and the Eureka Theater. Various events occur throughout the year at the Redwood Acres Fairgrounds. Art organizations include the Humboldt State University First Street Gallery, Humboldt Arts Council and Morris Graves Museum of Art, Redwood Art Association, The Ink People and the Eureka Art and Culture Commission. As a major regional center, the city offers many lodgings, restaurants, and shopping areas, including dozens of specialty shops in its historic 19th Century Old Town commercial district and the only large mall in the region.

Carter House Inns, B&B, Eureka
Carter House Inns are perched alongside Humboldt Bay in Victorian Eureka with luxurious amenities, superior hospitality, spas, fireplaces, and antique furnishings with Restaurant 301, our Wine Spectator Grand Award winning restaurant. Restaurant 301 is among 81 dining establishments worldwide to hold a Wine Spectator Grand Award; its cellars are a treasure trove of the finest vintages. Local purveyors and the inn's own garden supply the kitchen, imbuing the house cuisine with wonderful regional, seasonal freshness. Awaken to what California Magazine called "the best breakfast in California."

| | |
| --- | --- |
| FORT BRAGG BED & BREAKFASTS, CALIFORNIA | |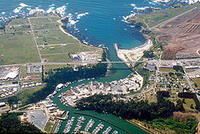 Fort Bragg is a city located in coastal Mendocino County, California along State Route 1, the major north-south highway along the Pacific Coast. Fort Bragg is located 24 miles (39 km) west of Willits, at an elevation of 85 feet (26m). Founded as a military fort prior to the American Civil War, Fort Bragg is now a popular tourist destination due to its picturesque views of the Pacific Ocean and rugged Northern California coastline.

Due to Fort Bragg's proximity to the Pacific Ocean, the city has very mild weather throughout the year. Most of the rainfall occurs from November to April with some occasional drizzle or light showers during the summer. Fog and low overcast are common, especially during the night and early morning hours.

Country Inn B&B, Fort Bragg
The Country Inn Bed and Breakfast located in Fort Bragg on the Mendocino coast invites you to "be our guests". For 30 years the Inn has been serving country hospitality along with the splendor of the north coast of California. Walk to Glass Beach, Wine Tasting or enjoy the magnificent redwood forests, the inspiring headlands and beaches of the coast, or a tranquil hike to a romantic waterfalls. The Inn is located within walking distance of the Skunk Train, and for shoppers and antique buffs the "Rodeo Drive" of Fort Bragg is just 3 blocks from our Inn. For your dining pleasure many award winning restaurants are also close by.

| | |
| --- | --- |
| GROVELAND BED & BREAKFASTS, CALIFORNIA | |

Groveland-Big Oak Flat is a census-designated place (CDP) in Tuolumne County, California, United States. The population was 3,388 at the 2000 census. This CDP includes the communities of Groveland, Big Oak Flat, and Pine Mountain Lake (PML).

The town hosts an annual 49er Festival on the 3rd Saturday of September, hosted by the Yosemite Chamber of Commerce, Groveland is the location of the Groveland Ranger District office of the Stanislaus National Forest. The Groveland Community Services District provides services, including fire protection, to the community . The Department of Forestry and Fire Protection, Tuolumne-Calaveras Ranger Unit, Battalion 16, has a Forest Fire Station west of Groveland on State Route 120.

| | |
| --- | --- |
| | Apologies no B&B's in Groveland listed at present. |
Continue browsing California Bed & Breakfasts
Return to California Home Page
Do you have quality vacation accommodation in California?
Why not join us?