Praia de Jauá, the beach of Jauá, is situated north of Salvador da Bahia at the "Estrada do Coco" and is "one of the most beautiful beaches in Brazil" (magazine GEO, Spain), with its mile long white sandy beaches. At some parts reefs form natural pools when the tide is out.

The southern beaches are almost deserted. In Jauá itself there are even more restaurants, bars, supermarkets and other shopping facilities and visitors can sample a host of Bahian food and drinks in any of the more than forty beach pavilions.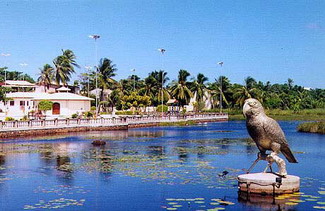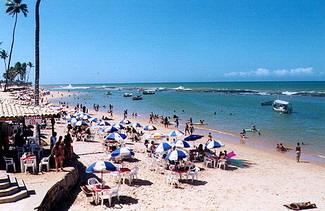 Distances from the hotel: Beach 350 m; airport of Salvador 17 km (app. 20 min by car); historic town centre of Salvador 40 km (app. 45 min by car). There is a regular busservice between Jauá and Salvador and some neighbour villages (not at night).

Equipment

The Hotel LAGOA e MAR (we speak English) is situated in a tropical garden on the banks of a natural lake and consists of twelve spacious circular bungalows (app. 40 m²). The complex has a swimming pool with a separate pool for small children, sun terrace (with bedchairs and sunshades), bar with reading-room, playground and a restaurant. There is a business service available with computer, internet access, printer and fax.
Accommodations
Each bungalow contains a bedroom with double bed, fan and TV, a living room with two couchbeds, radio and refrigerator, a bathroom with WC and shower and a veranda complete with a hammock and seats, offering enough room for up to four adults. Four bungalows are specially adapted for people with wheel chairs.
Board
Accommodation price includes a rich breakfast. Our restaurant offers a wide range of Bahian and international cuisine. Bahian specialities at the coast are mainly seafood: fish, shrimps (small and large), cuttlefish, lobster and so on, fried or as moqueca", that means boiled in a sauce of coconut milk, vegetables and spices.
Beef, mutton, chicken, spaghetti and salads complete our menu. And there are snacks for the small appetite.
Activities
Snorkelling, surfing, sea-fishing, beach-walking.
Charged: excursions by boat, horse riding on the beach, fish and pay with grill (in neighbour village).
Excursions
For excursions we rent a car with English speaking chauffeur:
Salvador (city tour; Pelourinho at night with Olodum; folkloric show);
Northern coast (with turtle stations, fortress Garcia d'Avila);
Cachoeira - São Felix, Mangue Seco, Valença - Camamu;
Lençois (Chapada Diamantina).