Search this site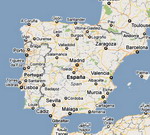 View map of Spain




View map of Cataluña




Montserrat Tour by Mountain Train
Ascent to Montserrat by the rack railway. The journey follows the remarkable Forms of the mountain and provides exceptional spectacular views of the Surroundings...
more...
Panoramic City Tour of Barcelona visiting the Sagrada Familia the Gothic Quarter and then Montjuic Hill of the Jews
With a private local specialist guides and driver you will enjoy a half day visit of Barcelona. Starting with Gaudi's Sagrada Familia church and then a walk around the gothic quarter ending with view from Montjuic (Hill of the Jews)…
more...
Penedes or Priorat Gran Reserva Exclusive Wine and Gastronomy Tour
An exclusive luxury wine day tour through the wine regions of DO Penedes, and la Conca de Barbera or DOC Priorat. Traverse the back roads of Southern Catalunya...
more...
Private Wine Tour to Torres Winery where Fine Wine of the Penedes Region is Born and Raised
Witness for yourself the thousand year old tradition of winemaking at the renowned Torres Winery on this private tour from Barcelona…
more...
Private Driver Chauffeur Car Services in Barcelona While your stay in Barcelona have a private English-speaking chauffeur at your disposal to take you around the city...more...
Sailing day trip along the Costa Dourada from Barcelona to Sitges Enjoy a private sailing day trips along the Costa Dourada. Leaving from the Olympic Port of Barcelona you will sail for 4hrs along this beautiful coastline until reaching Sitges, a charming resort village of the Costa Dourada... more...
Short Break Cooking and Wine Holiday in El Priorat Catalonia Spain Enjoy a complete hands-on learning experience that introduces you to the food and the wines of the Priorat region. This short-break program is a perfect introduction to the basics of Catalan cuisine...more...
Short Stay Sightseeing City Break in Barcelona Enjoy a short stay city break in Barcelona. Including a full day coach sightseeing tour of Barcelona's most important monuments and attractions and a half day excursion to Montserrat - the Holy Mountain...more...
Tapa tour in Barcelona For groups of of 4 - 6 people we offer you a guided tour of some of Barcelona's finest tapas bars. To help you out we will provide you with an English translation of Spanish food and cooking…more...
The Contrasts of Barcelona Gothic Cathedral and Modernist Sagrada Familia On this private half day tour you will see the contact between Barcelona's Gothic Cathedral and Gaudi's Modernist Sagrada Familia Church…more...
The Roots of Catalan Cuisine A private day excursion from Barcelona to discover the roots of Catalan cuisine in one of the richest culinary regions in Catalonia the "Baix Emporda", an area close to the Costa Brava…more...
View All Tours

Sagrada Familia,
Barcelona, Spain
Buy at AllPosters.com


Copyright © All World Vacation Station




Barcelona Featured Hotels / Private Tours in Barcelona
Photo Gallery of Barcelona / Barcelona Self-Catering Accommodation
FC Barcelona - A History & Insight Into Barcelona Football Club by James Burrows
It certainly is the city of Barcelona where you can have a wonderful sporting vacation. The howling capital of Catalonia is widely known for its 3S – Spanish Sporting Spirit. The city has really been the powerhouse of Spanish sports since it hosted the 1992 Summer Olympics.
Football surely is the main passion of Barcelona. Sitting on the Mediterranean coast, on the Llobregat & Besòs river mouths, Barcelona seems to be the city created solely for football. The city was chosen to host several matches of the Football World Cup 1982. Barcelona is home to the FC Barcelona. It's a fantastic destination for your football vacation. FC Barcelona – Futbol Club Barcelona, is a Barcelona based sports club, which is widely known for its Football team, although it also has teams for other sports, such as rugby, wheelchair basketball, ice hockey, athletics, baseball, cycling, field hockey, figure skating, and volleyball. The other well known teams of FC Barcelona include FC Barcelona B, FC Barcelona Women's Football, FCB Rugby, FC Barcelona-Institut Guttman, AXA FC Barcelona (Basketball), FC Barcelona Handball, FC Barcelona Futsal and FC Barcelona Sorli Discau (Rink Hockey), which represent the club at Women's Football, Rugby Union, Wheelchair Basketball, Basketball, Handball, Futsal, and Rink Hockey Championships respectively.
Familiarly known as Barça, FC Barcelona was founded in 1899 by Joan Gamper under the aegis of a group of Swiss, English, and Catalan men. Since then the club has been a prominent sports institution of Catalonia. The motto of the club is "Més que un club," which literally means 'More than a club'.
Along with Real Madrid and Athletic Bilbao, FC Barcelona was the founding members of La Liga in 1928. It was also the first La Liga champion. Uptil now, the club has won total of 18 La Liga, 24 Copa del Rey, 7 Supercopa de España, 32 Joan Gamper Trophy, 2 UEFA Champions League, 4 UEFA Cup Winners' Cup, 3 Inter-Cities Fairs Cup, and 2 European Super Cup trophies.
Camp Nou, officially known as Estadi del FC Barcelona, is the main stadium of FC Barcelona. Having the capacity of 98,772, Nou Camp is one of the largest stadiums in the Europe. FC Barcelona has volumes of fans all over the city of Barcelona, Spain, and Europe. The fans of FC Barcelona are known as culers or culés "oder boixis nois".
FC Barcelona's current football squad (as on 1 September 2007) include Víctor Valdés (vice-captain), Gabriel Milito, Rafael Márquez, Carles Puyol (captain), Xavi Hernández (vice-captain), Eiður Guðjohnsen, Andrés Iniesta, Samuel Eto'o, Ronaldinho (vice-captain), Gianluca Zambrotta, Thierry Henry, Edmílson, Sylvinho, Giovani dos Santos, Santiago Ezquerro, Lionel Messi, Deco, Lilian Thuram, Éric Abidal, Oleguer Presas, Yaya Touré, Albert Jorquera, Marc Crosas, Bojan Krkic, and Oier Olazábal.
With estimated revenue of €290.1 million, FC Barcelona was the 2nd richest club in the world during the 2006-07 season. The club has sponsorship deals with the world's leading companies including Nike, Coca-Cola, TV3, Audi, Telefonica, Estrella Damm, La Caixa, bwin, and MediaPro. Definitely, FC Barcelona is one of the top sports clubs in the world!

FC Barca Camp Nou Stadium and Museum Tour Tour Camp Nou through the installations, which takes visitors into the opposition changing rooms, down the tunnel and onto the pitch area to enjoy a panoramic view of all FC Barcelona facilities...more...

Barcelona Featured Hotels / Private Tours in Barcelona / Barcelona Self-Catering Accommodation

Barcelona Featured Hotels / Private Tours in Barcelona / Barcelona Self-Catering Accommodation
Watching football in the city of Barcelona by Paul Symonds
Going to Barcelona is always a great thing and there is so much to enjoy and see, including the various Gaudi monuments and museums, the long sandy beaches of Barcelona and nearby Sitges, a number of good shops and hundreds of decent restaurants. One of the highlights of every trip to Barcelona though has to be a trip to see one of the two Barcelona teams, FC Barcelona or RCD Espanyol.

The rivalry between FC Barcelona and RCD Espanyol is strong although the two teams people always think about in terms of rivalry are Real Madrid and FC Barcelona. FC Barcelona are certainly a powerhouse in Spanish and European football, with players including Eto'o, Thiery Henry and Ronaldinho all part of the Barcelona squad.

What makes a visit to the home of FC Barcelona even more amazing than just seeing a game is the chance to see the Nou Camp Stadium; a stadium which is arguably one of the most amazing architecturally in the world and which when full for a game such as the Barcelona v Real Madrid games, has a quite incredible atmosphere. You can visit the stadium regardless of if there is a game on and do the Nou Camp organised tour and see behind the scenes at the stadium. This tour is well worth doing in my view.

To see an FC Barcelona game you can get Barcelona football ticketsby going through an organised UK or Spanish company such as Spanishfootballtickets.com and purchasing tickets ahead of the game. You can also get lucky sometimes and find season ticket holders outside the stadium selling their spare seat or seats on match-day, for a reasonably price.

One piece of advice is to wear something warm because the Nou Camp Stadium has an open roof and despite the warm day temperatures, it can still get cold in the late evening and thus it can be worth taking a jacket just in case.

RCD Espanyol play just across the city in the Olympic Stadium in the Montjuic area, on the hill top and even though attendances are usually smaller then those you will find at the Nou Camp, the fans are extremely passionate and the atmosphere is very much like a real English Premiership style game with plenty of singing and crowd participation. You can purchase tickets for RCD Espanyol in much the same way as you do for FC Barcelona and tickets are usually available ahead of the game. Learn more about buying Barcelona football tickets.

FC Barca Camp Nou Stadium and Museum Tour Tour Camp Nou through the installations, which takes visitors into the opposition changing rooms, down the tunnel and onto the pitch area to enjoy a panoramic view of all FC Barcelona facilities...more...

Top

Barcelona Featured Hotels / Private Tours in Barcelona / Barcelona Self-Catering Accommodation
Most Popular Places in Barcelona
Everyone wants to visit a place which is very peaceful, relaxing and fascinating but this is really a tough job to find such place. You will really please to know that Barcelona vacation is a place you are searching for. This city is one of the most popular cities of Europe of today. It is located on the Mediterranean coast. This city is really a collection of multi-faceted and diverse cities. It also consists of 68 municipal parks, the largest of which is Montjuic, situated on the hill of the same name and is home to some fine museums and leisure attractions. The tourists or visitor unfamiliar with its history might be surprised that such a modern and enterprising city preserves its historic Gothic center almost intact, or by the curious contrast between the maze of narrow streets and the grid-like layout of the Eixample, the urban planning "Enlargement" project of the end of the 19th century.

This stunning city called "Barcelona" has numerous places to visit, activities for people of all ages, and fun for every taste after dark. It offers us array of after dark venues ranging from inexpensive tasces (taverns) or pubs & cafes, old-fashioned dance halls, vaudeville theatres, movie houses, shops to posh clubs, big avenues, bars, restaurants, concerts, live shows, etc. The city certainly has plenty of places to eat, drink and get merry late night.

Ciutat Vella has some nice after dark venues, such as Les Rambles, Barri Gòtic, and El Raval. Popularly known as La Ramblas, Les Rambles is the popular boulevard running down the center of the Ciutat Vella, dividing the Raval and Barri Gòtic, which is the centre of the old city of Barcelona. Les Rambles and Barri Gòtic are the major tourist traps for tourist and newcomers. You can find many clubs, bars and restaurants, here; some of the notables are Jamboree, Kane Room, Fonfone, Club 13, La Veronica, Schilling, Fennelli and Margarita Blue. El Raval is often referred to as el Barri Xinès, or China town, famous for several fashionable restaurants, cafés, and wide range of pubs and bars, such as Dos Trece, Ra, Rita Blue, Lupino, Ambar and Manchester.

This city is located just north of the city centre; L'eixample in Eixample is your place for a lot of fine clubs, bars, restaurants and cafés, such as Buda Bar, Sweet Cafe, and City Hall. It is also known one of Barcelona's gay villages, and thus often nicknamed as gaixample. It has many gay-oriented establishments, such as gay bars or pubs, nightclubs, bathhouses, restaurants, bookstores, and other businesses. It is also famous for its remarkable avenues, such as Passeig de Gràcia, and Avinguda Diagonal.

The Poble Espanyol (Spanish Village) on Montjuic (Sants-Montjuïc) also has some of the nice bars and discotheques. The illuminated fountains of Montjuic are very popular after dark venue. The funicular ride up the Tibidabo (Serra de Collserola) is also popular after dark. The Olympic Village in Poble Nou (Sant Martí) is also known its good selection of bars and discotheques. You can also find a number of bars lined up in the areas of Carrer Avinyo, Rambla del and in the streets of El Born in La Ribera. Additionally, Barcelona beaches have some of the nice bars the offer late night fun on beaches.


Buy at AllPosters.com

Modernist architecture in Barcelona is marked by the works of one of the most outstanding 20th-century architects, Antoni Gaudi. The most prominent of his creations include the Park Guell, a garden complex on a hill remarkable for its curving lines and beautiful mosaics, the Palau Guell with its parabolic arches, intricate forged iron decoration and original receiving room design, La Pedrera (Casa Mila), a building without a single straight line, more of a sculpture than a work of architecture, with an astonishing sculptured roof, and, of course, the Sagrada Familia, the unfinished shell of a church, something out of this world, particularly when lit up at night.

Palau de la Musica Catalana (the Palace of Catalan Music) is another brilliant example of Modernist architecture in Barcelona and a UNESCO World Heritage site. The concert hall designed by Lluis Domenech i Montaner was inaugurated in 1908. Its stage is apse-shaped, a grand central skylight adds to the effect of the stained-glass windows, its façade features colourful mosaic decorations and a large sculpture of Catalan Popular Song.
Your nights in Barcelona often turn mornings! Barcelona is the city that comes rocking after dark. The Catalonian jewel, known for its art & architectural magnificence during daytimes, unveils its cabaret character after dark. Barcelona becomes dazzling after dark. The after dark fun often begins with evening strolls. Its streets and squares start getting thronged early evening, and they are the common places for alfresco drinking, which is pretty popular in Barcelona. The atmosphere at bars, clubs, lounges and cafés is electrifying after dark. Music is the real fuel of Barcelona after dark life. The nightlife typically features all types of music including Hip-Hop, R&B, Soul, House, Techno, Rock, Razz, Jazz, Flamenco, etc. Flamenco is not as popular as it is in Seville and Madrid, but Jazz certainly has lots of fans in the city. You can feel music in air and everywhere in the street, concerts, halls, clubs and even private parties.
The evening fun usually begins from around 6 to 8pm. The moderate clubbers enjoy in their favorite clubs and bars from 10 to 12pm. However, the fashionable clubs open their doors at 1am; actually, time from 11Pm to 2/3Am, is the peak time for hardcore nightlife. If you are looking to have great after dark fun in Barcelona, you may get started with twilight promenading along Les Rambles. During high season nightly entertainment for young or old is of a very high standard, a good night will be had by all.
Paramount Places Present self catering holidays in mobile homes on a 4 star holiday park campsite near Barcelona Spain it is one of the most beautiful Spanish campsites in Spain Family camping holidays in Spain has become very popular with mobile home rental made so easy this will be one of the best holiday places Spain. So, why not treat the family to one of our Mobile home holidays Spain, camping holiday in the most beautiful Spanish campsite near Barcelona for your holidays Spain.
Paramount Places offers family holidays in first class self catering mobile homes sleeping up to 6 people at very attractive prices on campsite which boasts two full size outdoor swimming pools, also one heated indoor pool with a gym, sauna, etc, all for you to enjoy your camping holidays Spain. The campsite also has a first class hacienda style restaurant with a well stocked supermarket.
During high season nightly entertainment for young or old is of a very high standard, a good night will be had by all. A bus service from the campsite entrance operates every 15 or 20 mins which takes you into the bustling Spanish town of Vilanova i a Gelru with its many high street shops, piazza's, restaurants, bars etc. Next to the towns marina is the most magnificent safe sandy beach in Spain all within 1.5 km away from the Spanish campsite near Barcelona which has a huge range of facilities and services the campsite is located on the Costa Dorada, with good weather all year round.
Being close to Barcelona, Tarragona, Salou, Universal Studios Port Aventura etc makes Vilanova-i-la-Geltrú the perfect base for campsite camping holidays near Barcelona. The camping holiday park near Barcelona and campsite Spain is situated on the outskirts of the town in a natural park, with a wide range of animals and vegetation, including a mini-zoo also.

Barcelona Featured Hotels / Private Tours in Barcelona / Barcelona Self-Catering Accommodation
So near, yet Sónar: Barcelona's City Festival by Andrew Regan
Every June, for three nights and three days, the bars, clubs, pubs and streets of Barcelona become even more busy than normal, as people from all over Spain, Europe, and the rest of the world descend upon the city to experience Sónar, an Advanced Music and Multimedia Art festival. The official website describes the festival as "the essential meeting point for an alert public, cutting-edge artists and the most influential professionals from the sectors of music and modern arts."

Sonar has been running for the last 15 years, and now attracts 80,000 people to the city annually. Unlike many other music festivals that have popped up over the last decade, Sónar is completely city based, meaning no mud, no portaloos and no camping. For those that prefer their festivals to be situated in a civilised, urban environment, rather than out in the not-so-great outdoors, Sónar is the festival for you.

Though Sonar embraces many forms of music, the emphasis is definitely on electronic styles; artists that have appeared in the last few years include: Aphex Twin, Cut Chemist, DJ Yoda, Kraftwerk and The Chemical Brothers.

The festival has two distinct components; "Sonar by Day" takes place in the centre of contemporary culture and the Museum of contemporary art, which is very close to the La Rambla. Here, visitors will find live music performances, DJs, multimedia art, record and clothes fairs, technology demonstrations, cinemas and other activities, split into a number of official areas known as SonarVillage, SonarCinema and Sonarama amongst others.

At around about 10pm each day, as the heat of the day starts to give way to slightly cooler night air, "Sonar by Night" begins. This takes place outside of the city centre and special coaches are laid on to transport festival goers to the main arena, which is split into four areas.

As Britain's biggest festivals such as Glastonbury and Reading become increasingly more difficult to get tickets for, more people are looking further a-field to get their festival fix. Foreign festivals make ideal short breaks, offering music fans the chance to see their favourite artists, and also enjoy a cultural adventure, not to mention warmer, dryer weather!

The are now hundreds of big music festivals throughout the world, including Fuji Rock Festival in Japan, Exit Festival in Serbia, Mera Luna in Germany, Southbound Festival in Australia and EuroSonic Festival in Holland, to mention just a few, so maybe you should head further a field this summer and explore the wide world of festivals outside of the UK.

About the Author: Andrew Regan
Featured Barcelona and Area Tours


Barcelona Featured Hotels / Private Tours in Barcelona / Barcelona Self-Catering Accommodation
Barcelona Beaches by Orson Johnson
Barcelona has become a very popular tourist destination in recent years, and it is easy to see why. The gorgeousness of the beaches is unsurpassable, and Barcelona. With over 4km of beaches, Barcelona has something for everyone. The most famous beach, and still a great place to visit, is Barceloneta. Known as Little Barcelona, the enormous stretch of golden sands can take your breath away. The joy of Barceloneta is its extensive series of eat-in restaurants, whether you fancy pizza or a more traditional Catalan Dish. The Beach merges into San Sebastian, favoured by the locals and those that consider themselves in the 'know'.

The Nova Icaria, well known to tourists as it is only a short walk from the Olympic Marina, this beach will be crowded no matter what type of year, though it offers not only great beaches, but a series of beach bars, restaurants on the promenade, and a handful of other bars and restaurants not far away; though it may be a case of deciding whether to abandon your place on the surf for food, or stay put and starve.

Bogatell is right next to Nova Icaria, but is mainly loved for the stone walkway, which attracted roller bladders and cyclists from near and far. You might take your life in your hands walking there, but the raised level means that traffic noise is blocked, and you just have the peace and quiet of the sands.


Buy at AllPosters.com
Should you want to, the nudist beach is just along the strip from Bogatell (which it is separated from by a windsurfing and kayaking school and hire shop). This beach is carefully hidden from other holiday makers with a long stretch of bamboo; and there is an excellent park nearby where you can eat or just crash out away from the sun.
The southern end of the Barcelona strips are longer, with more shallow waters, making it the best option for people with children. The northern points are smaller and pretties, with deeper waters, proving an attraction with the extreme sports crowd. Barcelona's beaches have been given the European Foundation of Environmental Education's "The Blue Flag", which means that the beaches have fulfilled some of the requirements, such as cleaning up the water and surf, improving security and first aid treatments, as well as easy access for everyone. This blue flag means that you should be reassured when trying out the fabulous sands, or swimming in the water. Before, the Spanish beaches were notorious for their dirty sands, but this flag should mean that you can visit them securely.
While the Catalonian capital boasts great beaches, they are often overcrowded and not very exciting (as well as a mecca for petty thieves). If you want something a bit different, then try catching the Spanish Metro for an out-of-town beach that suits you best. Temperature is the main consideration here (though the south is better for children, having shallow waters). 15 mins ride from Barcelona town, the beach of Casteldefells has great bars and eateries, as well as a super beach. It is still very accessible from Barcelona, so if you were hoping to miss the crowd, you will need to go a little bit further out. However, Casteldefells is an amiable and friendly beach if you are not feeling adventurous.

| | |
| --- | --- |
| Buy at AllPosters.com | Sitges, which a couple of years ago was unknown, is a very nice beach, though more and more tourists are turning up to eat ice-cream in its parlours, rent sun loungers, or just shop. The town is a popular gay resort, so no surprises that here are nudist beaches and great bars. All in all, Sitges is a great place to hang out and compare ices. |
To the North is the great beach of Ocata; with a massive stretch of unspoiled beach. The best news about this beach is that the general tourist population don't know about it; there'll always be places to soak up the sun, and the local area has organized fun activities for kids.
Wherever you go in the Barcelona beach area, there are also plenty of things to do within the city itself. There are a number of festivals throughout the year, and the late summer has two big festivals, the Festes de la Merce, at the end of September, features music, performance artists and celebrations, the majority of it completely free. The second big festival, the Festes de Gracia, which is slightly earlier in the season, takes over most of the Gracia quarter, and is again a festival of music, street performance and partying long into the night. Visiting Barcelona at the end of April means catching the fantastic Sant Jordi festival, which is like Barcelona's individual valentine's day. With people wandering the streets handing out roses, it is a popular and widely celebrated festival.


Top