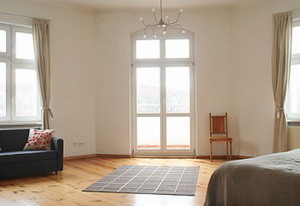 Am Boxi is a private apartment, located in Friedrichshain district in Berlin, only 15 minutes from the famous Alexanderplatz square near the river Spree and the Berliner Dom.

This fully equipped apartment is placed in Boxhagener square, in the heart of Friedrichshain, where on Saturday guests will find a market and on Sunday the Flea market, one of the most renowned in Berlin.

Perfect for a week-end with friends or a family holiday, Am Boxi apartment boasts an easy access both from Schönefeld and Tegel airports.
Am Boxi is a spacious and fully equipped apartment that can accommodate up to 6 persons.

This non-smoking apartment offers 2 bedrooms (one with two single beds and one with one double bed, two extra beds are also available), a fully equipped kitchen, a bathroom with bathtub, a balcony, TV, telephone (on request) and wireless Internet access (on request).