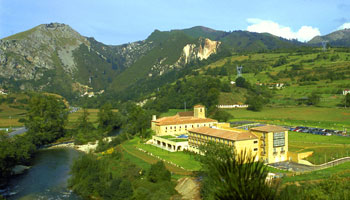 MONASTERY OF SAN PEDRO DE VILLANUEVA (12th CENTURY TO 18th CENTURY)
Tradition has it that King Alfonso I 'The Catholic' constructed this building on 21 February 746, and the excavations carried out at the start of the refurbishing work to turn it into a Parador de Turismo confirm this idea. The current monastery was founded on this site and run by the Order of San Benito until the Desamortización de 1835 (Large-scale selling of State and Church assets). Two rooms with archeological remains, pottery in particular, uncovered during the refurbishing work are testament to this distant past.

The monastery was declared a National Monument in 1907, and features an added wing of perfectly harmonious architectural and constructional qualities: truly a jewel set on the green banks of the River Sella, in whose waters the hotel is reflected. In the background, guests can contemplate the majestic landscape of the Picos de Europa.


This Parador, featuring comfortable and modern facilities, is the ideal starting point from which to discover the delights of the Asturian landscape, enjoy its typical festivals and ancestral folklore activities and sample the best and most authentic of its rich gastronomic tradition.

Cider, Fabada and Cabrales cheese: Enjoy the exquisite Asturias cuisine. Asturias broth, 'fabada' (beans with herbs and sausages), and many different cheeses (especially Cabrales, Gamoneo, and Beyos) are some of the most typical food from the region. Accompanied, of course, by the properly-served natural cider.

Hotel Facilities:

Cocktail bar
Conference facilities
Parking facilities
Disabled facilities
Restaurant
Safe deposit box
Swimming pool

Room Facilities:

Air conditioning
Cable / Satellite TV
Heating
Mini bar
Private bathroom / Ensuite
Telephone

Activities:

Canoeing
Hire of bicycles
Horse riding routes
Mountaineering
River fishing
Trekking

How to get there:

The Parador is located on the right bank of the River Sella in Villanueva, 2 km from the town of Cangas de Onís. The main access roads are the N-634 (Oviedo-Santander), and from Arriondas (3 km), the N-625 which links up with Castilla y Leon. Starting from Cangas de Onís and taking the AS-114, travellers may gain access to Covadonga and the eastern-most parts of Asturias and western Cantabria.

Distances to nearest paradors

Gijón: 96 Km.
Fuente Dé: 109 Km.
Santillana: 111 Km.
Santillana Gil Blas: 111 Km.
Cervera de Pisuerga: 150 Km.
León: 190 Km.
Ribadeo: 224 Km.

Additional Information:

Distance to airport: 115 km
Distance to railway station: 60 km


Click above to view map