4 other Inca ruins worth visiting in Peru (that aren't actually Machu Picchu)


Whenever anyone thinks Peru, Machu Picchu instantly comes to mind and for good reason. The incredible hilltop citadel was recently voted one of the New Seven Wonders of the World. However there are many other fascinating Inca ruins to visit in the country and some are a lot easier to access. Built between 1438 to 1533 each site shows the incredible skill of the Inca people.

Some of this fascinating sites are even within easy access of Machu Picchu, making it easy to combine them into your vacation. When touring in Peru, bear the following excellent examples in mind.
The Inca Ruins of Sacsahuamán

Photo: Sacsahuamán CC BY-SA 2.5 Colegota


Sacsahuamán is probably the greatest Inca ruin outside of Machu Pichu. Overlooking the city of Cusco, Sacsahuamán this gargantuan complex is believed to have been a fortress or a royal retreat, or possibly both. The walls are built in a zigzag formation and consist of some of the largest stones ever found in Inca stone masonry. Experts believe some weigh as much as 300 tons, but all are fitted together neatly like a jigsaw. To access Sacsahuamán from Cusco, you can either take a taxi or hike up there in under an hour.
The Inca Ruins of Pisac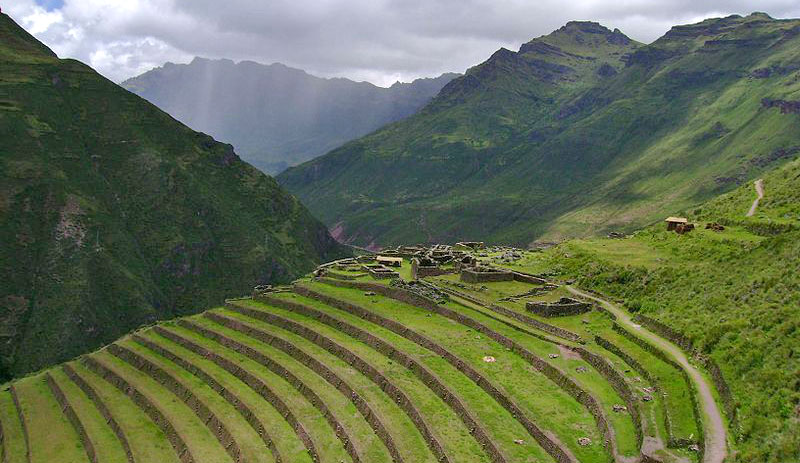 Photo: Pisac in the Public Domain by AlexSP


The ruins of Pisac overlook the Urubamba River close to the modern town of Pisac itself, just under an hour northeast of Cusco. These ruins are well known for their Inca waterworks and curving agricultural terraces, offering beautiful views of the Sacred Valley. The buildings are as finely constructed as those at Machu Picchu and of interest to note is that this site features one of Peru's only remaining "intihuatanas," a series of carved rocks used for astronomical observation by the Incas.
The Inca Ruins of Ollantaytambo


Back in 1536, Ollantaytambo was the site of the Inca's greatest military victory over the invading Spaniards. Even today, the site retains its original Inca walls and street grid, along with a set of stone terraces, used to attack the invading Spaniards with slingshots and arrows. Above the town, storehouses can be seen, as pictured above). The site is a stop for most of the trains traveling to and from Machu Picchu, making it an ideal stop.
The Inca Ruins of Moray


Moray is considered to be one of the best examples, besides Machu Picchu, or extreme Inca landscaping. Moray consists of three enormous pits with curved sides and terraces leading down them. Each pit was carved out of the earth with depths of up to 100 feet or more. Researchers have noted that temperatures between the top and bottom layers of the pits can vary by more than 20 degrees, leading them to believe Moray may have been an agricultural site where the Inca experimented with crops.

In conclusion, there are many more excellent and fascinating sites to visit in Peru showing the architectural wonders of the Incas. Have a great trip!

Peru Travel Guide - Home - Travel Blog